School of Earth and Space Exploration Director Meenakshi Wadhwa, Center for Meteorite Studies Interim Director Devin Schrader, and Smithsonian Curator of Meteorites Tim McCoy are authors of a new paper published this month in the journal Annual Review of Earth and Planetary Sciences.
The paper, Advances in Cosmochemistry Enabled by Antarctic Meteorites, details the many contributions to the fields of planetary science and cosmochemistry facilitated by the analysis of meteorites recovered from Antarctica, including the first identified lunar meteorite (Allan Hills A81005) and the first recognized martian meteorite (Elephant Moraine A79001).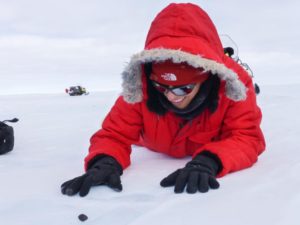 To date, over 40,000 Antarctic meteorites have been recovered and classified, constituting the bulk of currently inventoried meteorites, and these planetary and asteroidal materials continue to provide new insights into the origin and evolution of our Solar System.
See a full list of classified Antarctic meteorites, here!
Read about former Center Director Meenakshi Wadhwa's Antarctic meteorite field season, here!
Read about Center alumna Emilie Dunham's Antarctic meteorite field season, here!