Arizona State University School of Earth and Space Exploration and Center for Meteorite Studies graduate student Emilie Dunham will be receiving her PhD in geological sciences this May.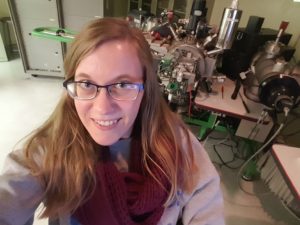 Among her many achievements, Dunham was recently selected for a 51 Pegasi b Fellowship in Planetary Astronomy, which provides exceptional postdoctoral scientists with the opportunity to conduct theoretical, observational, and experimental research in planetary astronomy. Dunham will be hosted by the University of California, Los Angeles, Department of Earth, Planetary, and Space Sciences and will be studying the heritage of meteorites to develop a timeline for planet formation and other early Solar System events.
Click here to read the full article, and Q&A with Dr. Emilie Dunham!