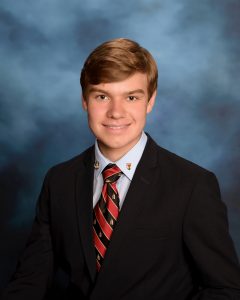 At this year's NASA Space Grant Sudent Poster Session, undergraduate student Christian Kroemer presented his analysis of minerals that form under high pressure and temperature conditions, including tissingtite-II, corundum, silica, and olivine to explore the formation and impact processes of lunar meteorite Northwest Africa 13967.
The poster session highlights the research of Space Grant Students (both graduate and undergraduate) in various STEM subjects, and provides them the opportunity to practice presenting a topic and network with other students, faculty and researchers. The session is held in preparation for the Arizona NASA Space Grant Undergraduate Research Internship Statewide Symposium that will be held in Tucson in April.
Christian will next present his findings at the annual Lunar and Planetary Science Conference in Houston, TX.
NASA Space Grant is a nationwide program funded by NASA. It is designed to develop the young minds of STEM graduate and undergraduate students into thinking beyond the classroom by actively performing NASA related research alongside a faculty mentor.
ASU/NASA Space Grant has two primary goals:
to contribute to the nation's science enterprise by funding education, research and public engagement projects.
to increase the engagement of underrepresented minorities in all areas of Science, Technology, Engineering and Mathematics.
Scholars participate in year-long research and the results of their research are presented at a Poster Session in February and the Annual Arizona Space Grant Research Symposium in April.